Last update 02/26/2012
Author H.T. Williams Releases the Highly Awaited novel
'Cold Awakening'
The first book in the MacGowan Brothers series is an edgy and suspenseful ride.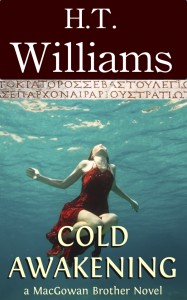 Seattle, Wash. – Feb 25, 2012 – Fiction writer H.T. Williams announces the much anticipated ebook release of Cold Awakening for worldwide distribution at $3.99. The book is the first of the MacGowan Brother novels; a new paranormal series.
After an unexpected death in the family, the last thing that art dealer Callie Fraisier needs or wants in her life is a man.  Determined to make it on her own, but with a talent for finding trouble, she lands herself directly in the path of the mysterious Rylan MacGowan. Unable to remember what happened when she was brutally attacked and left for dead fifteen years ago, her search for the truth takes the two of them to a remote island off the coast of Greece.  Here Callie's past holds dangerous and shocking secrets that will change both their lives forever.
H.T. Williams weaves a suspenseful and emotional story with complex subplots that keeps the reader engaged until the very last page.
"It's a story about soul mates who were tragically torn apart and the power that brings them back together in a series of unpredictable events," says Williams of her new novel, Cold Awakening. "I can't wait for my readers to get to know the MacGowan brothers as well as I do."
H.T Williams is currently working on Matched by Fire, the next book in the MacGowan Brothers series that is due out in the fall of 2012.
"Cold Awakening" is available as an eBook or digital download and is available through the major online book retailers; Amazon.com, Barnes and Noble, Apple iBooks and others.
ABOUT THE AUTHOR:
H.T. Williams started writing at the young age of nine when she wrote and illustrated her first book, "the people under the lawn".  A graduate of the Evergreen State College, she was a double major in computer science and international communications. An accomplished professional writer, she spent years in public relations and communications crafting non-fiction pieces. Her love of travel has taken her to over 52 countries where she's gathered stories and adventures that inspire and give life to her fiction writing.  She now lives in the Pacific Northwest, where her idea of a perfect day consists of nothing but sunshine, writing, and spending time with her family.
Review copies and interviews available
###