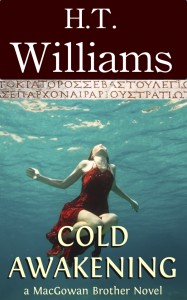 JUST RELEASED – February 2012
Cold Awakening
a MacGowan Brothers Novel: Book One
After an unexpected death in the family, the last thing that art dealer Callie Fraisier needs or wants in her life is a man.  Determined to make it on her own, but with a talent for finding trouble, she lands herself directly in the path of the mysterious Rylan MacGowan. Unable to remember what happened when she was brutally attacked and left for dead fifteen years ago, her search for the truth takes the two of them to a remote island off the coast of Greece.  Here Callie's past holds dangerous and shocking secrets that will change both their lives forever.
Available on Amazon.com, Barnes & Noble, and Apple iBooks
see fiction-general, fiction-romance, fiction-romance-paranormal
ISBN: 978-0-9852468-0-8  Price: ebook $3.99
Coming soon in 2012
Matched by Fire
a MacGowan Brothers Novel: Book Two 
Quentin MacGowan lives a care-free, fast paced lifestyle, where he answers to no one. No one that is until he meets Paige Gentry; a feisty spit-fire of a woman who is hell bent on making sure that Quentin doesn't get away with murder. When Quentin accidentally stumbles into a complex art heist, and one of France's top art curators ends up dead, he thinks that he can cover up his involvement gracefully until he realizes that nothing, not even his special abilities can get him past Paige Gentry.